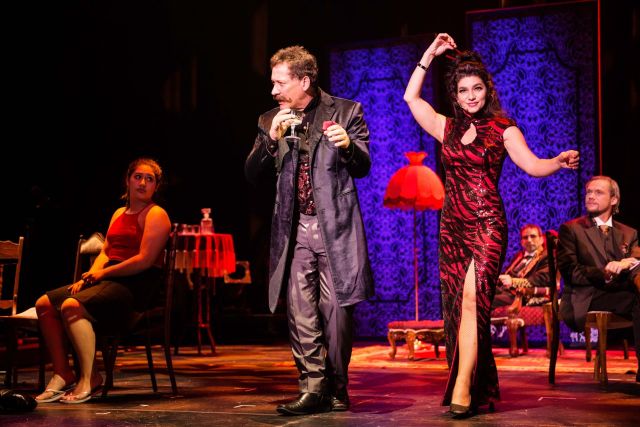 Review by John Lombard

A magic show is a rough sell in an age of cynical audiences. I'm definitely one of the audience members who has to poke and probe, hunting for the wires and mirrors that unravel the trick. The Illusionists 1903 doesn't try to push the boundaries of magic, but instead delves into the history of magic for classic routines that haven't lost their punch.

Mark Klein comperes the night as The Showman, giving us snatches of history as he introduces new acts. This is the water torture escape that killed Houdini, while this is the famous cutting-the-woman-in-half stunt. He's helped along by some stunning sound and light design, which together create a wonderful feeling of mystique.

The tricks are all straightforward, but no less compelling for that. In fact, the simplicity of the tricks adds to their charm: you can picture everything happening in a concert hall a hundred years ago. The performances themselves are flawless, with tight timing and gleaming polish creating some amazing effects.

The 7 magicians in the group take turns displaying their unique style of magic. In addition to Klein's Showman, there are displays of mind-reading, levitation, escape acts, and even some impressive card tricks. The variety on offer and frequent swaps between magicians kept the night fresh.

All of the performers were masterful, although for me two stood out as not only excellent magicians but tremendous entertainers.

Charlie Frye's Eccentric combined magic with slapstick comedy in acrobatic routines where the magic was less impressive than his phenomenal dexterity. His juggling finale was spectacularly generous, finding new kinks and twists when he could have easily ended it much earlier and still delighted the audience.

Dana Daniels as the appropriately named Charlatan was also hugely entertaining, his character a parody of the lazy magician with swift patter who flubs his tricks. Although here the tricks going wrong is a smokescreen for the secret trick he has been setting up the entire time, which he will suddenly throw out like a dart.

The Illusionists 1903 is an excellent showcase of magic's history, a "greatest hits" of some of the best illusions from magic's Golden Age. Atmospheric, colourful and highly polished, this show's best trick is making the past feel fresh and new.